Order one
Ropejumprope
(rjr) and pay with
PayPal
Price without shipping:
USD 46.80
(THB 1,587)
Gross weight:
0.81 kg
(net weight: 0.66 kg)
Zone 1 countries:
Bhutan
China
Hong Kong
Indonesia
Laos
Malaysia
Myanmar
Philippines
Singapore
Sri Lanka
Taiwan
United Arab Emirates
Vietnam
Zone 2 countries:
Argentina
Austria
Belgium
Bulgaria
Canada
Croatia
Czech Republic
Denmark
Estonia
Finland
Greece
Hungary
Iran
Ireland
Luxembourg
Mexico
Morocco
New Zealand
Nigeria
Norway
Oman
Poland
Portugal
Qatar
Romania
Serbia
Slovakia
Slovenia
South Africa
Sweden
Switzerland
Turkey
Zone 3 countries:
Australia
France
Germany
Israel
Italy
Japan
Korea
Netherlands
Russian Federation
Spain
Portugal
Spain
U.K.
If your country is not listed, please contact me!
Shipping with Thailand Post using "Small Packets" (up to 2 kg, airmail, trackable)
Delivery time 3 to 14 working days
Customs may apply!
Full-body jump rope with rope-handles & replaceable middle-section (1 extra PVC-hose included)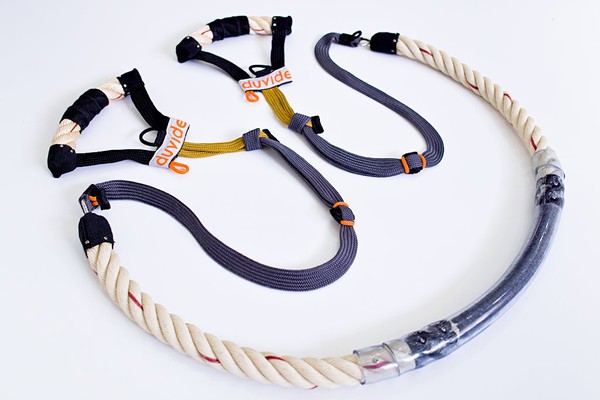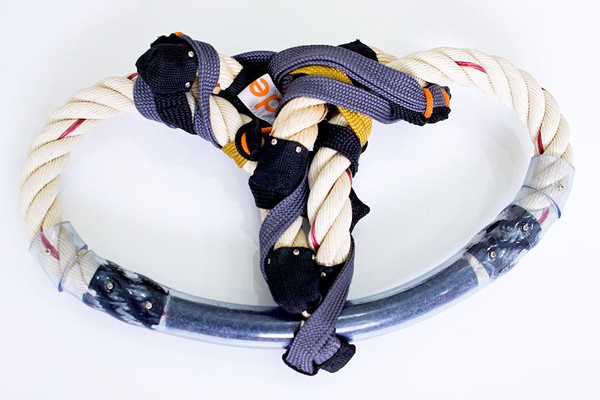 Pretzel fold-up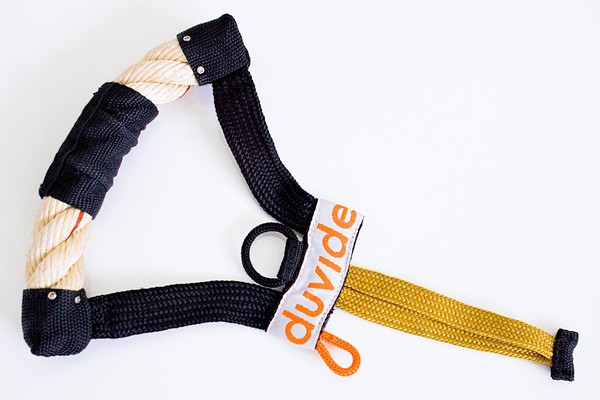 Detachable handles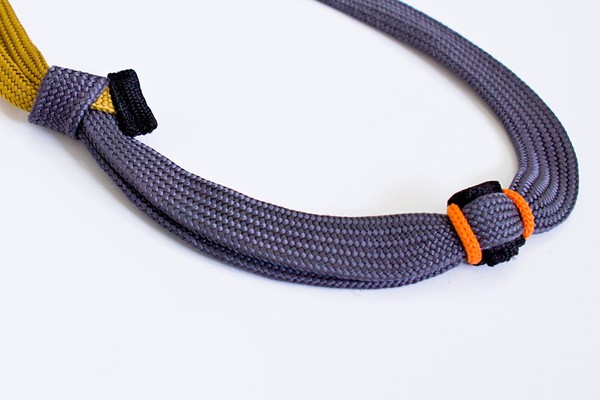 Adjustable length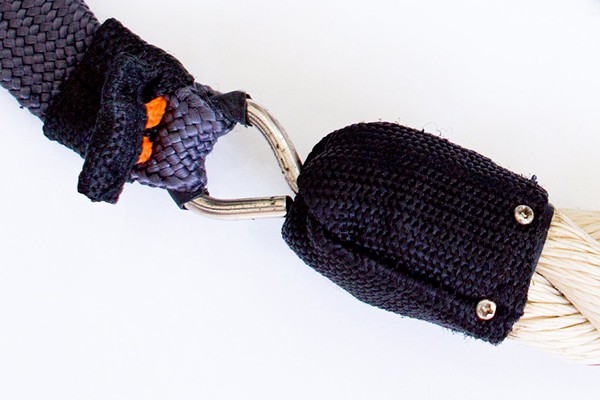 Swivel bearing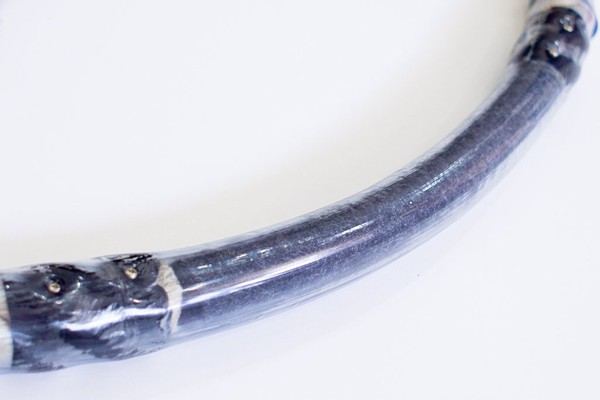 With felt-core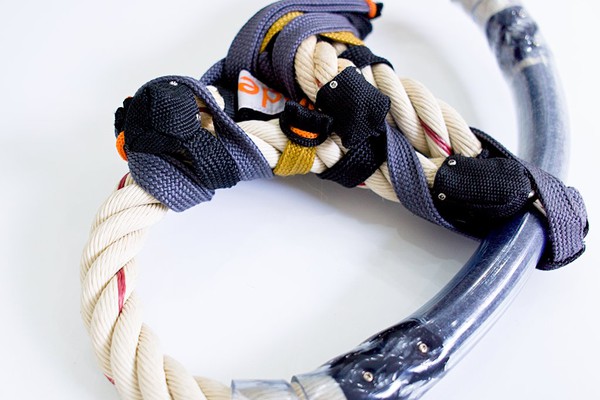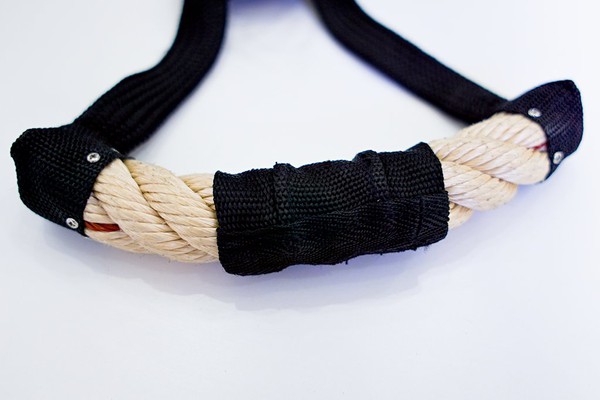 Finger grooves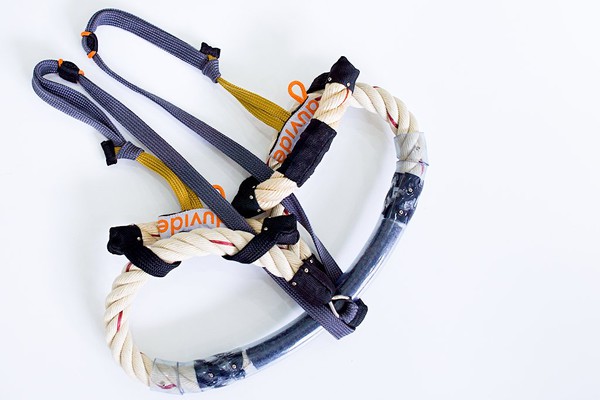 Loose fold-up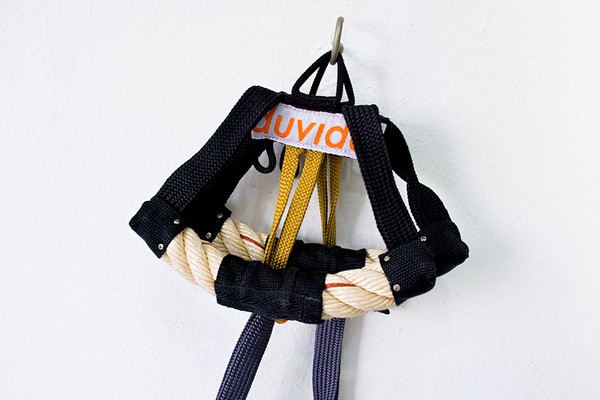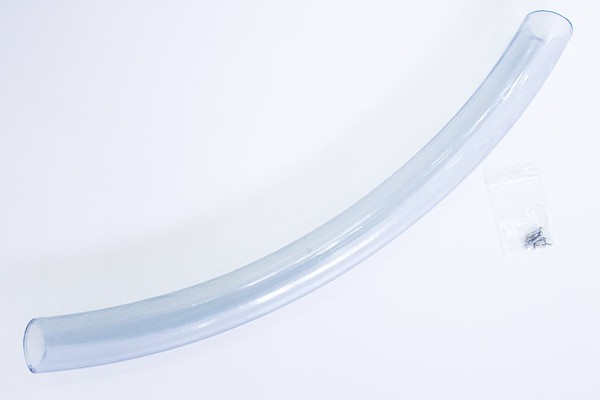 Extra middle-section + screws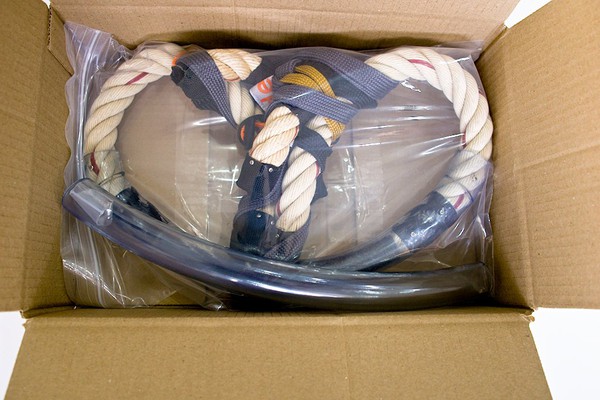 Compact package
Use with my jump rope workout programs!
Requiring more upper body strength than any weighted rope due to the longish rope and the strong pull of centrifugal force (but weighs only ca. 0.6 kg)
Thick (3.1 cm) middle-section forces to jump higher than with a thin rope
Swivel bearings prevent winding-up of rope
Allows for many techniques being jumped forward or backward in addition to swinging exercises
Simple handling feels like jumping in slow-motion to easily practice more advanced techniques & coordination
Length of rope can be quickly adjusted to fit all body heights
Rope handles with extra webbing for a solid grip with even sweaty hands
Can be packed up compactly with toggle closures and stored or carried around without clutter
Extra durable PVC-hose middle-section for foot and floor contact which can be replaced
One extra PVC-hose middle-section + screws included in box
Rope handles machine-washable
For body heights from 160 cm to 215 cm
ℹ

Ropejumprope

Handles: 24 mm with extra webbing
Length (steplessly adjustable): 260 cm - 315 cm
Weight: 0.63 kg
Folding-up the Ropejumprope to compact Pretzel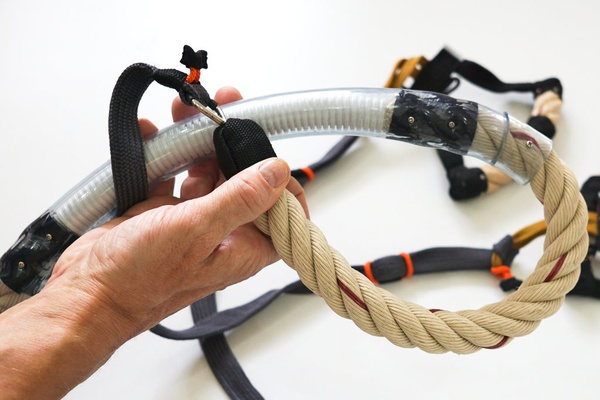 1. Fold RIGHT towards center front of middle-section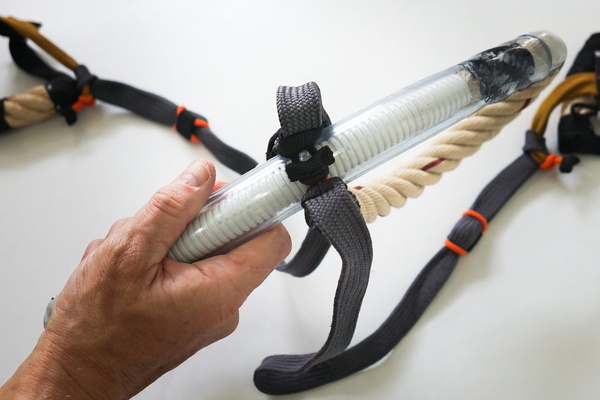 2. Fold other side towards middle section and close toggle lock at center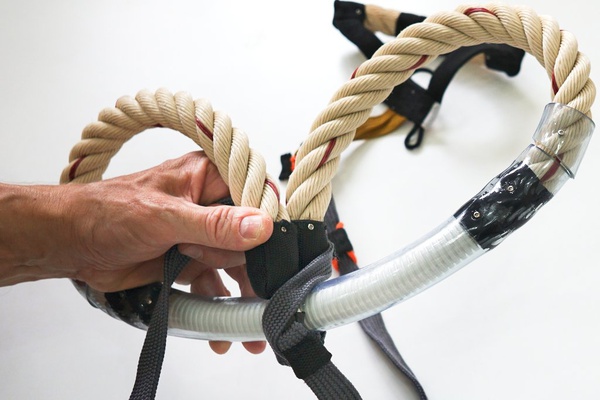 3. Turn rope around & pull handle from back rope through right rope loop and then back through left rope loop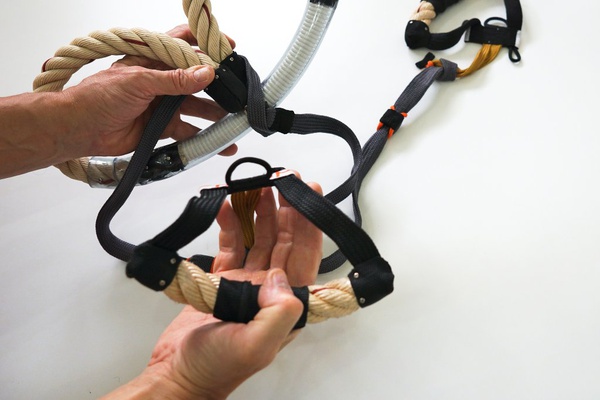 4. Hold rope handle with logo facing towards rope (logo part dangling down) with loop for toggle lock on center side of rope. (also see #12)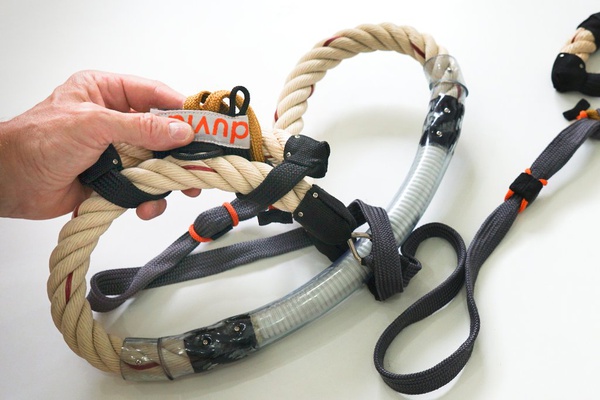 6. Pull the logo part through handle, joining both ropes. Large loop for toggle lock is on top of rope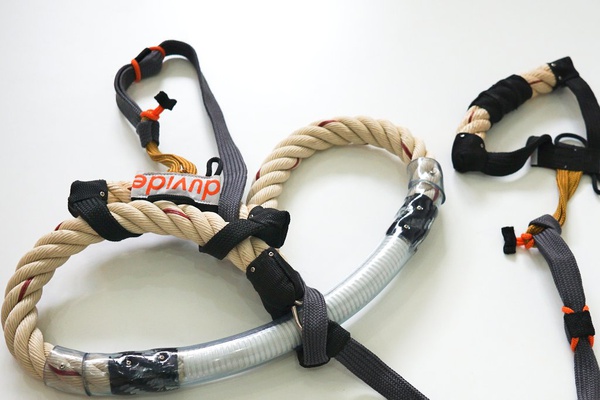 6. Pull gray rope through completely that the handle slings around the rope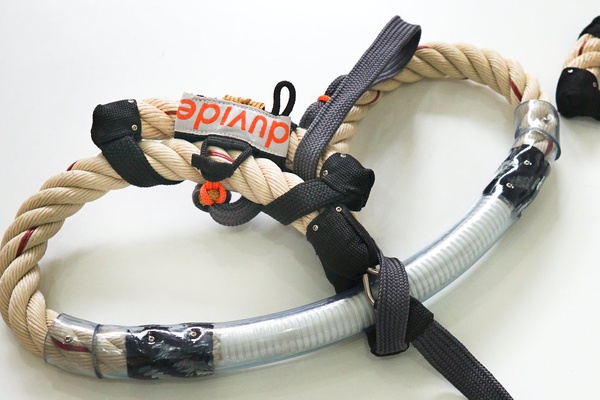 7. Pull yellow rope over both ropes in the back and close toggle lock in front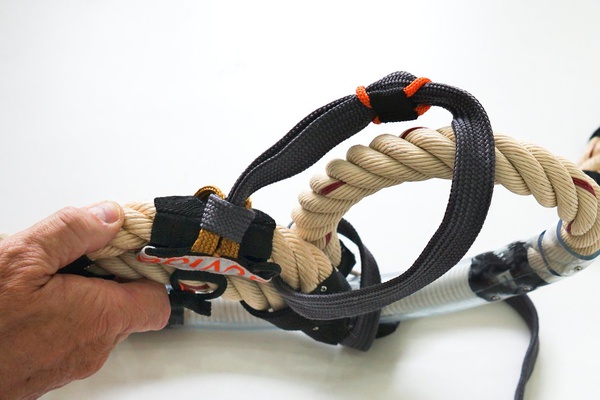 8. Pull knot of grey rope towards logo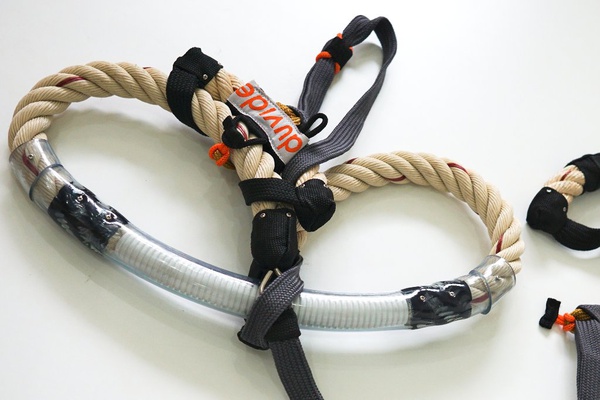 9. Align the black parts of handle and rope with each other & tighten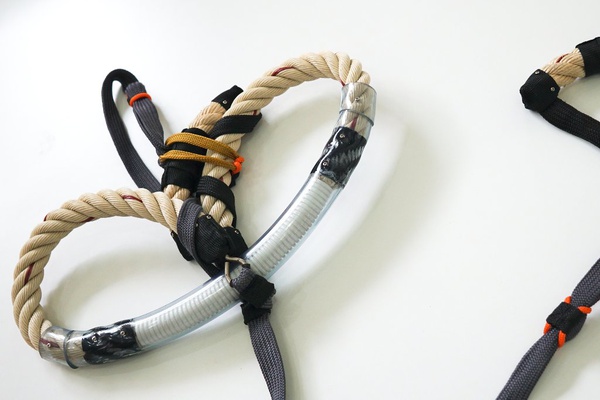 10. Turn rope around & repeat procedure with other handle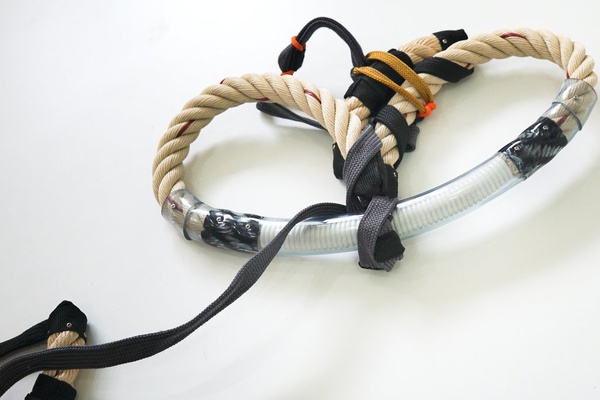 11. Pull over PVC through right in and left loop out
12. Hold ropes together with logo facing towards rope and toggle loop at center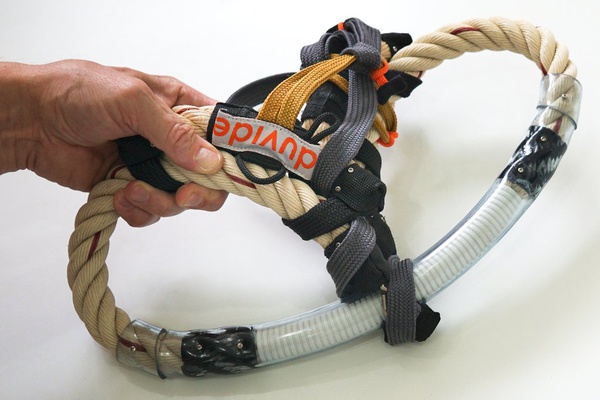 13. Pull large toggle loop to front over rope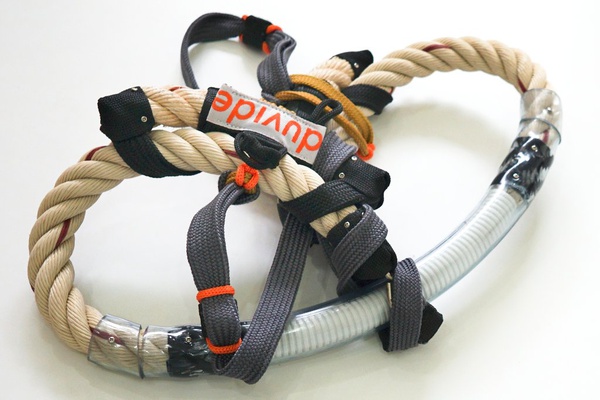 14. Pull yelly rope over both ropes in the back and close toggle lock in front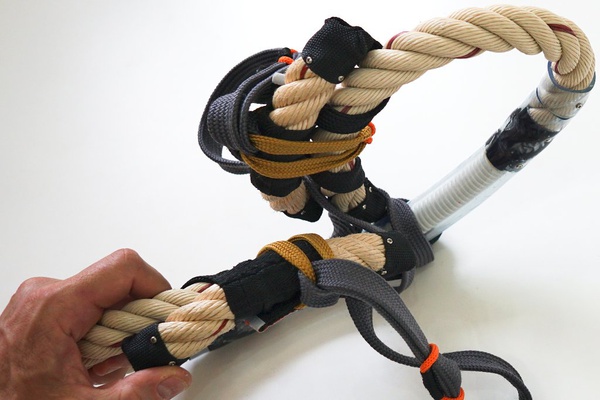 15. Pull knot from gray pipe rope to other side toward logo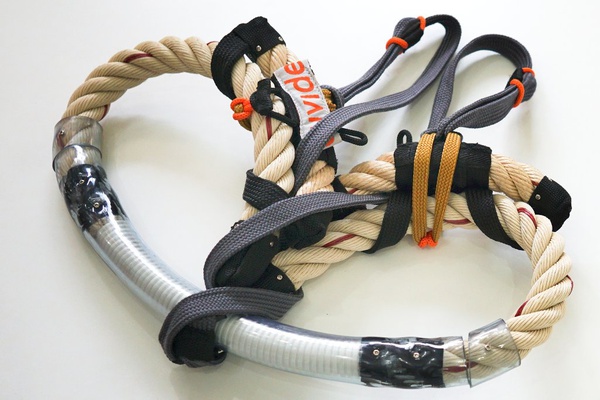 16. Adjust the handles and tighten the ropes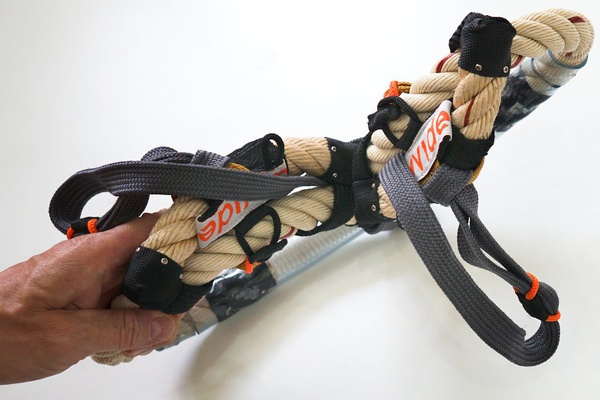 17. Swap sides of handle so that the logos facing each other now & position the gray rope over the logo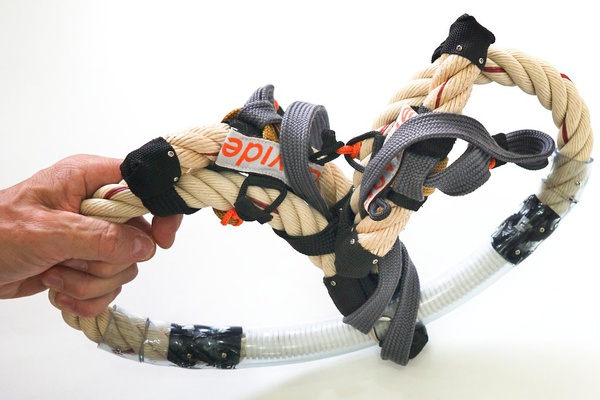 18. Close the toggle locks which are facing each other 1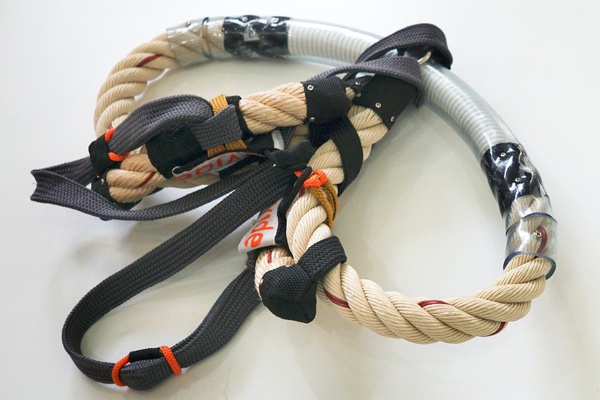 19. Close the toggle locks which are facing each other 1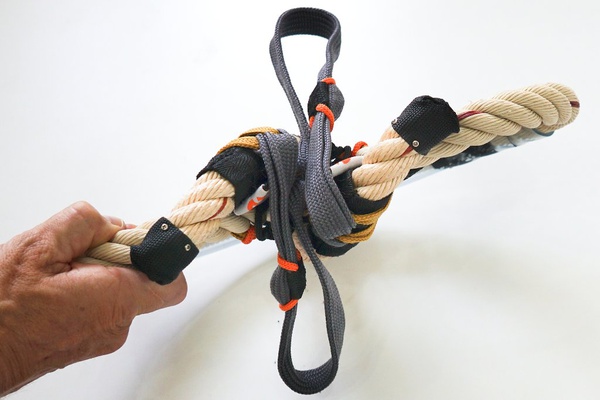 20. Align the ropes inside in opposing directions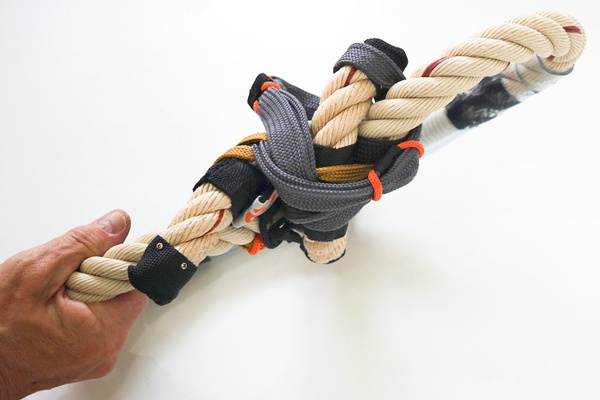 21. Pull the left side through the right rope loop and pull gray rope over black end of handle and lock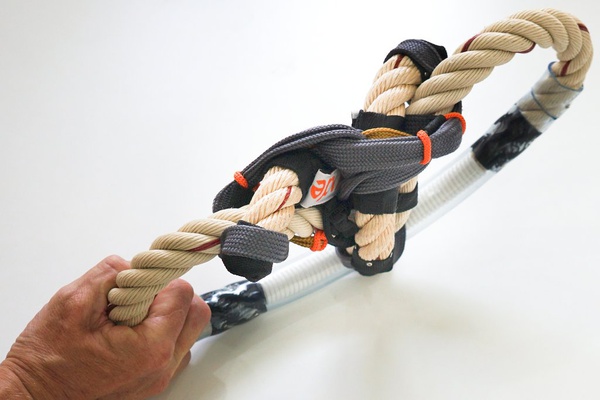 22. Pull the right side through the left rope loop and pull gray rope over black end of handle and lock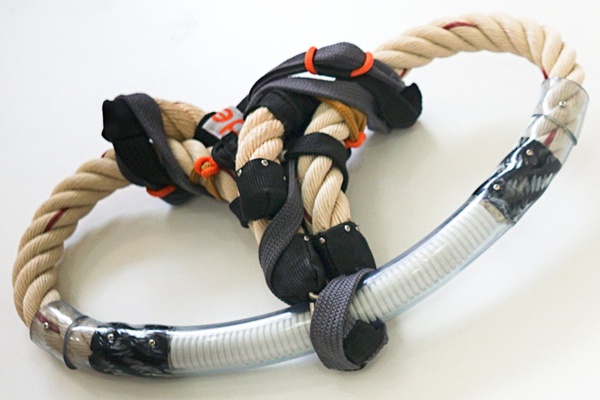 23. Ropejumprope folded-up the compact way
Previous Ropejumprope models (2013-2020)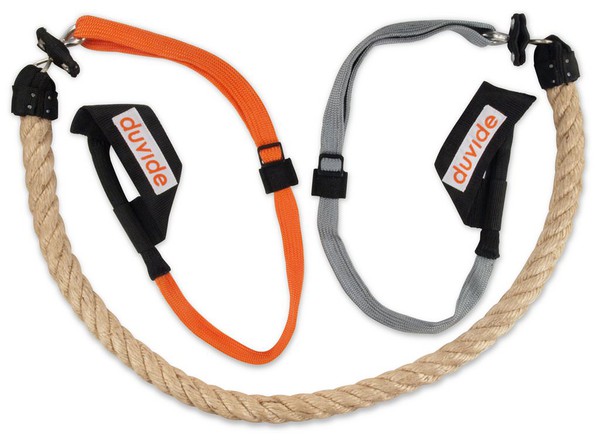 Model 2013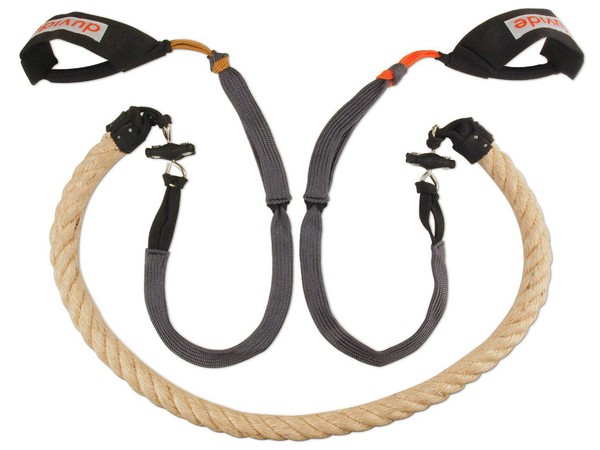 Model 2016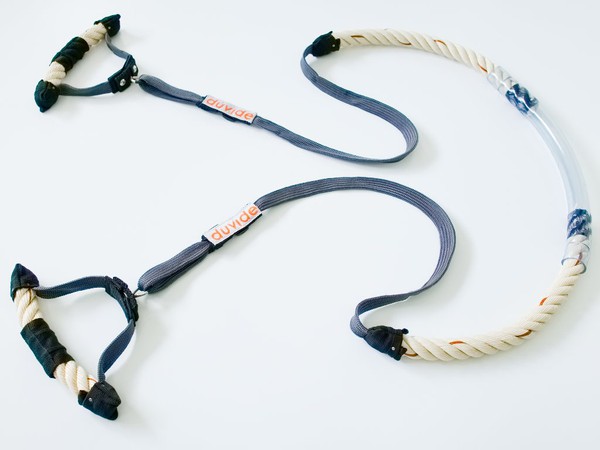 Model 2018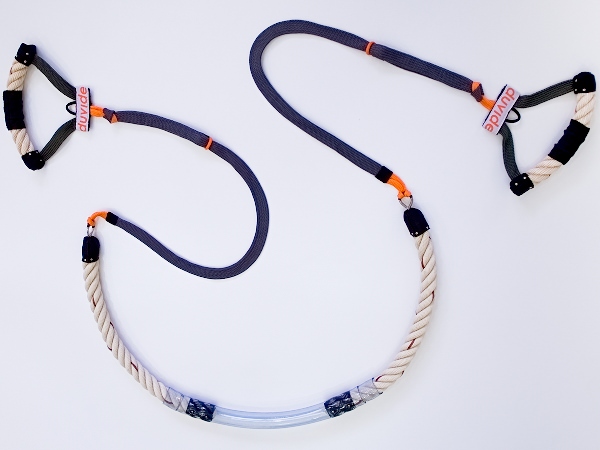 Model 2020
49 Techniques for the Ropejumprope and Loopjumprope
Ropeflow technique "Matador's wheel" with Ropejumprope
Ropeflow technique "Dragonroll" with Ropejumprope
Ropeflow technique for Ropejumprope "Chopping"